Jacob Holt House History
Information collected by William Lee Anderson III.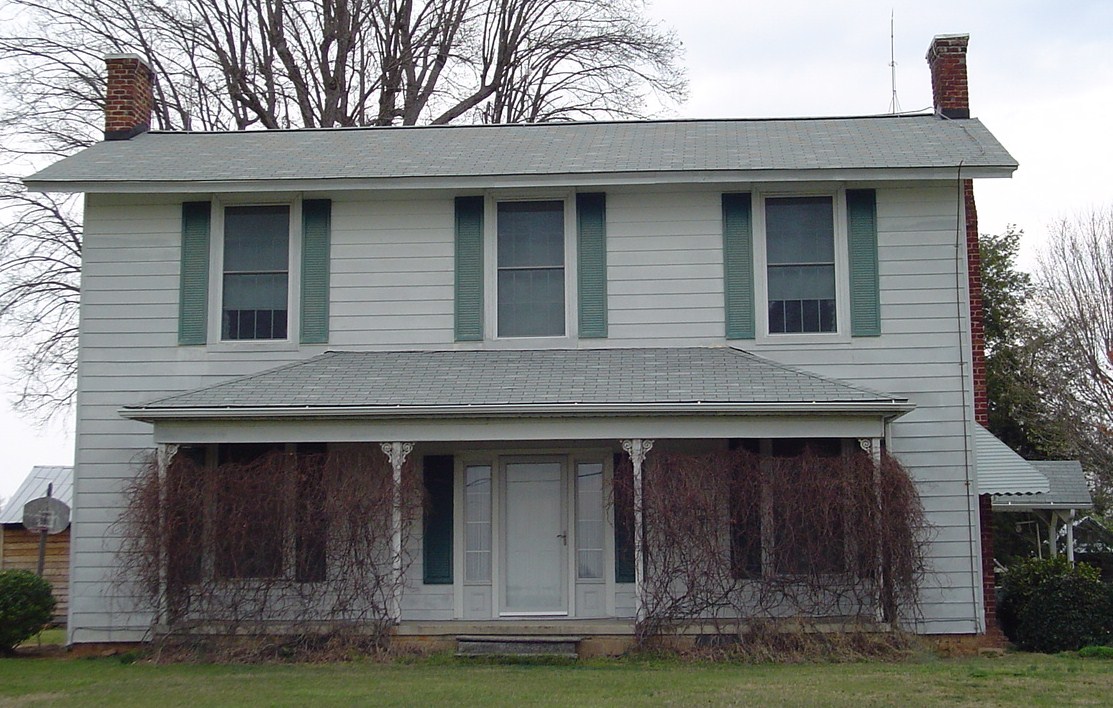 The Jacob Holt house was originally located in the clearing about 100 yards from the Holt Cemetery. During the spring of 1861, Jacob Holt began construction using the popular Federal style architecture: symmetric windows, two rooms on each of two floors, central hall, and external chimneys on opposite sides. Jacob Holt was about 65-years old at that time. Pine lumber was hauled from Virginia. Construction halted during the Civil War, and was completed in 1865. Jacob Holt and his wife Mary Stepney Wilkins moved in.
It is not clear exactly how ownership passed to James Anderson and Nannie Whitted. Here are some known events. Jacob Holt died on 14 May 1883. In his 1876 will, he left his house to his wife Mary Stepney Wilkins, and upon her death to his daughter Jane Holt (Roney:2007). But Jane died unmarried on 13 October 1886 before her mother Mary Stepney Wilkins who died on 6 June 1889. At that time, the house must have been inherited by daughter Elizabeth Wilkins Holt and her husband William James Anderson, both in their late 50s. But they probably remaining living in their home in Pleasant Grove, on present-day Highway 49. After 6 June 1889, grandson James Anderson and his wife Nannie Edwin Whitted moved into the house. Since their marriage on 1 December 1887, they had been living in a Faucett house on Dodson Road. Perhaps the Faucett connection is through Nannie's grandmother Anna Davis Faucett (1810–1849) wife of Henry Whitted (1804–1883). A more probable Faucett connection was through James' grandmother Martha Faucett, 1805–1853, since her family had lived along Back Creek for many generations. James and Nannie's first child Caroline Elizabeth Anderson was born in the Faucett house on 10 October 1888. Their second child William Levi Anderson was born in the Holt house on 27 December 1889. On 24 December 1891, Elizabeth Wilkins Holt died. It is not clear if the house became the property of James and Nannie at this time or only after William James died on 24 May 1902. In any event, Nannie wanted the house closer to the main road. So, about 1892, a workman named Allen, a former slave, moved the house about one-third a mile. It was rolled on logs using a team of mules or horses. (Roney:2007). It had only 4 rooms. An east chimney and fireplace were added. Later, a west chimney, kitchen, and side porch were added. (Roney:2002).
It was the first house in the neighborhood to have lightening rods and screens on doors and windows. Before electric power, it had a carbide-gas indoor lighting system. The first community telephone required residents maintain lines and poles. Each Christmas was celebrated with a large Christmas tree in the parlor. (Roney:2002). Nannie Whitted died in 1930. James Anderson suffered from debilitating effects of a stroke. About 1930, daughter Mary Alice (Mamie) Anderson and her husband Walter David Aldridge moved in and cared for James. They inherited the house on James' death in 1935. Since 1973, son Marvin Malcom Aldridge has owned and preserved the house. Daughters Nell Margaret Aldridge and Mary Alice Aldridge have lived there. It has been a family home for 5 generations. The family tree has 243 names of descendents of Jacob Holt and Mary Stepney Wilkins. There certainly are many more. All have links to this cemetery and house. The house is designated a Historical Landmark of Alamance County.
Sources
Anderson, W. Holt, 1998, photograph of Jacob Holt.
Roney, Edith, 2002, correspondence about history of Jacob Holt house.
Roney, Nancy and Henry, 2007, conversation about movement of Jacob Holt house.