---
Today, is my birthday. I mean my REAL BIRTHDAY. I am getting a bit restless and ready for a bigger world. So, I will take a few minutes to announce my birth on the World Wide Web.

I was born at 1:45AM June 16, 1999. My length is 20 1/2 inches. My weight is 7 pounds 9 ounces.

I was born during the summer solstice when daylight hours are longest. That is when most of Nature's babies are learning about the World. The temperature is warm, the tree leaves are rich green, and young birds are beginning to fly. The out-of-doors is inviting. I am looking forward to a long life here.
---
My Life's Story in Pictures
Here are my first portraits.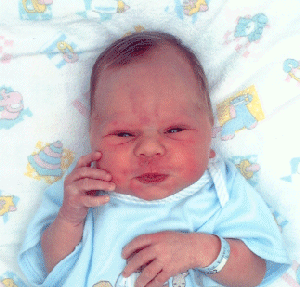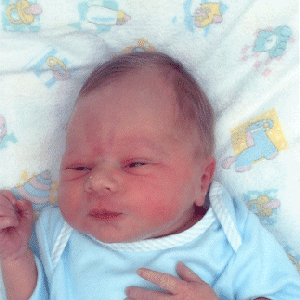 Long day! Big plans for tomorrow. Need to rest up.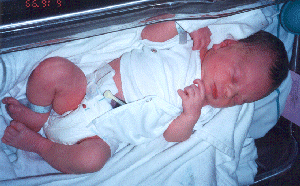 Proud parents with my brother Thomas.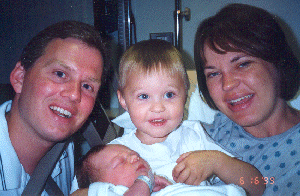 Brother Thomas anticipates great times spent with me.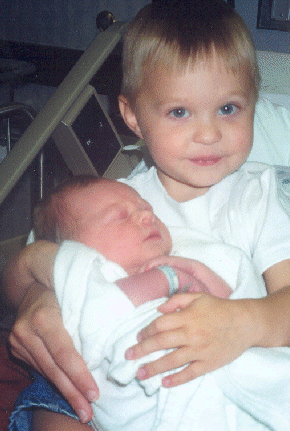 You can check out Thomas Hayden Folk's Home Page.

My first Halloween.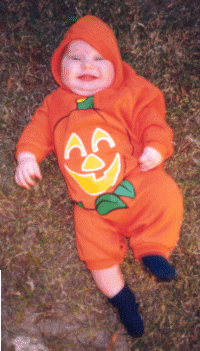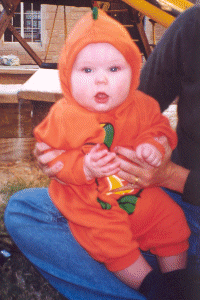 Check out my cousins Claire Olivia Folk's Home Page and McGuire Stevenson Hunter's Home Page.
---
Birthday Quiz
You can take a quiz about my birthday facts. If you get all correct answers, you will see my slide show.
---
---
Responses: Here is what relatives and friends are saying.
Connor,

Words cannot describe how we felt when we first laid eyes on you. We feel so fortunate that God has entrusted us with your care.

We have all been anxiously awaiting your arrival. Your big brother Thomas loved to feel you move around while you were inside Mommy. He bought you several gifts which he wrapped himself.

We find it remarkable how much you resemble Thomas when he was born. Like Thomas, you are very handsome and healthy.

We look forward to many happy times together as a family. Thomas has lots of things he wants to show and teach you.

We also can't wait for you to meet all of our wonderful friends and family. They are very loving and caring.

Lots of love always,
Mom and Dad
Dear Connor,

You are very special to us, and we love you very much. In fact, we gave you a book on the day that you were born telling you how much your family loves you.

Your big brother Thomas was so excited when you were born. He wore a shirt that said, "I am the Big Brother." You and Thomas will have a great time playing together in the years to come.

Your birthday is very close to your Uncle Luke's birthday, which is on June 15. In the future we will be celebrating both of your birthdays one day apart. June is a good month to have a birthday because it's the end of school and the beginning of summer.

You were born in 1999, which is the last year of the twentieth century. You are the last member of our family to be born in this century. Most of your life will be spent in the twenty-first century.

You have two wonderful parents. We remember when your dad was born and when your big brother Thomas was born. You look a lot like they did when they were born.

We will enjoy baby-sitting with you and watching you grow up. May God bless you and be with you throughout your life.

With love,
Granddaddy and Grandmother Folk
Connor,

Welcome to the family! I am a proud uncle and will do my part to make sure you grow up happy and healthy. You are special to be a June baby.

Bob Folk
Connor,

What a joy it was coming to the hospital and seeing my new nephew only a few hours old. It brought back memories of 13 months ago when your cousin Claire was born. Claire is looking forward to having another cousin. She has not learned to say Conner yet but we will work on it. Your Uncle Chris, Aunt Gina, and Cousin Claire love you very much and are looking forward to many good times together. You have been blessed with a wonderful family!

Chris, Gina, and Claire
Hello Connor and welcome to your new home! You have such great parents and a big brother, Thomas, to play with. You are a lucky little boy. We are grandparents of Claire Folk, your cousin, who will also be fun to play with. We are looking forward to meeting you soon. Don't be too hard on Mommie and Daddy--they need their rest. Just give them a little time and then...go for it!!!

Judy & Kent Brown
Dear Connor,

Your birth is such a joy to everyone in our family. We want to get to know you and hope you will participate in our many family events.

You will have a long and wonderful life.

Love, Cousin Bill
Welcome, Connor!

I know you have two very proud parents, and a loving brother! We can't wait to see you!

Love -- Clint & Krista
Glad we got to see your Mom, Dad, and big brother right before you were born but sorry we missed seeing you! Second cousins John, Natalie, and Wilson say Hi and wish you a wonderful infanthood. Take good care of your Mom and Dad.
Connor,

Welcome to the world!!! You could not have asked for a better set of parents as I'm sure your brother Thomas can attest. You are also blessed with a wonderful extended family with whom you are destined to spend many, many wonderful times with. I wish you nothing but the best as we embark into a new millennium, and I hope you remember that while you may encounter some difficulties in your life your family will always be there for you. I look forward to actually meeting you and seeing both your brother and parents again!!!

David
Hi little one,

I discovered the wonderful pictures and news almost by accident just a few minutes ago. I found the Folk family history in the making and am very happy about it. I am going to search back and see what may be still hidden there.

Your pictures are very nice and am glad to know you found your way into this world. This is a smart world and am looking forward to the things you do with your family.

This is a distant cousin.
Love to you,
Carolyn Brye
Dear Connor!!!

Here a message from a cheesehead from the Netherlands!

How are you doing little boy? You must be growing like a weed! Do you enjoy living in Charlotte? I'D LOVE IT! I don't have the chance to meet you this year, as I am going to a country called Thailand this September. But I am sure that we'll meet once, maybe in Charlotte or in Amsterdam!

See you, mate!
---