---
I am 3 hours old, so I want to write my World Wide Web home page. Here is one of my first portraits.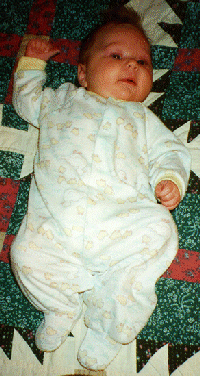 Here I am during my first Christmas.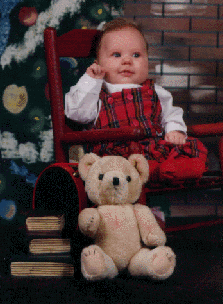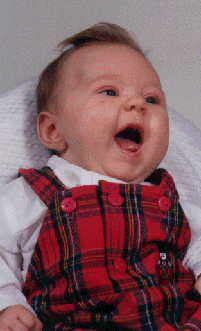 This is me at 4 months.
Here are two photos taken May 2, 1997.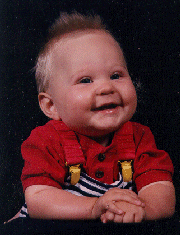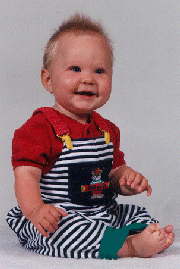 Here I am inspecting a flower and butterfly cocoons in Sept 1997. My personal birthday cake was made by my Great Aunt Virginia Moore.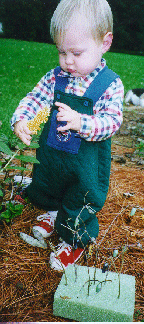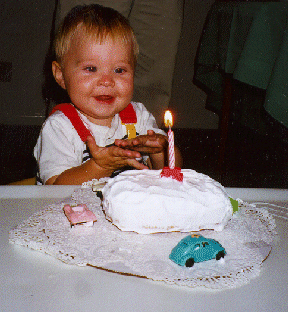 Portrait May 1999.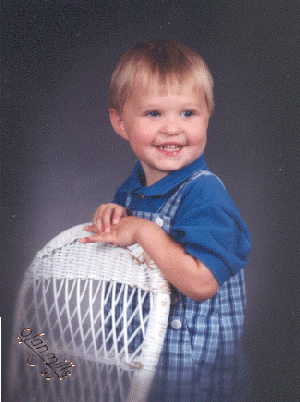 Young man.
On June 16, 1999 Brother Connor was born.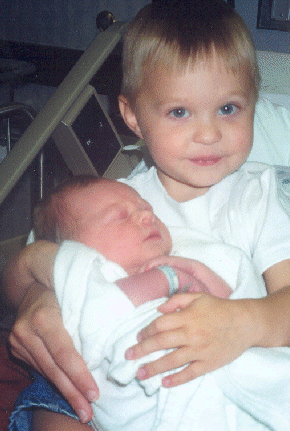 You can check out Connor Alexander Folk's Home Page.

On Halloween 1999, Carolyn Byre gave me a wonderful dinosaur costume.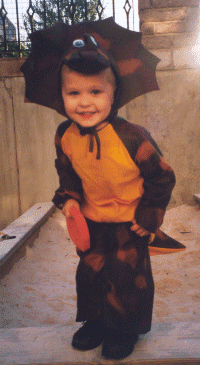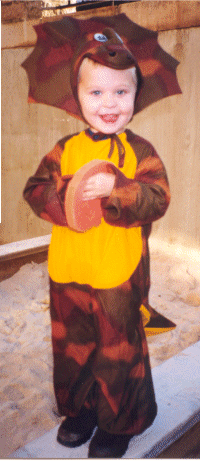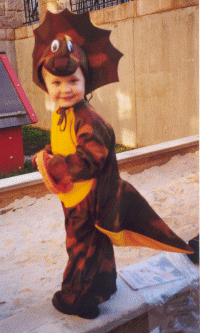 Check out my cousins Claire Olivia Folk's Home Page and McGuire Stevenson Hunter's Home Page.
---
My birthday was announced by an awesome lunar eclipse. I was born 1:28pm Friday, September 27, 1996 at the Carolina Medical Center in Charlotte, North Carolina. I weight 7lbs 5oz. I went home for the first time on Sunday afternoon, September 29. I am doing well. My parents are nice people. I will include links to their home pages, when available.
---
I am thinking about a career as:
Newspaper reporter,
Charlotte-Mecklenburg teacher,
Presbyterian minister,
Brain surgeon,
Astronaut,
NFL quarterback,
or some combination of the above.
---
Current hobbies are visual images, like human faces and colorful objects such as these: I love to investigate trees, animals, and new sounds.

---
---
Responses: Here is what relatives and friends are saying.
Thomas Hayden, you are a special blessing to Granddaddy and Grandmama Folk, and we love you very much. You are our first grandchild, and your name Thomas is your dad's name, your great grandfather's name as well as several of your relatives on both sides of our family.

You were born on a special day--September 27. We know of at least three people who share your birthday--Bob Heck, a close friend of your dad's; Doug Woodham, a cousin; and Jerel Patrice, a student that your granddaddy worked with last year at Covenant Academy. With that many people, it must be a good day on which to be born.

We gave you a book on the day that you were born, telling you how much we all love you. May God bless you and be with you throughout your life.

With all of our love,
Granddaddy and Grandmama Folk
Hello Thomas!

This is your Uncle Chris and Aunt Gina. We just left the hospital and are so excited about your arrival into the world. You are a beautiful baby and we are excited about being your aunt and uncle. This is our first go at being an aunt and uncle so we will try our best to be good ones. Please let us know if there are any areas we need to work on. We look forward to watching you grow up and pray that God will be with you everyday.

We love you, Uncle Chris and Aunt Gina
Thomas:

Tonight, your parents celebrate their first wedding anniversary. We will go to dinner and then spend the rest of the evening with you. We wouldn't want it any other way. You are so special to us. And we are grateful to God and thank him everyday for blessing us with such a beautiful child.

There has been a lot of change in our lives over the past year. But none of them come close to matching your arrival. There are no words to describe how we felt the moment we first saw you. It was a dream come true.

Now, we watch with amazement how fast you are growing. We watch your eyes grow big as you discover something new in your little world. We listen to you talk in a language that only you can understand. We hold you close to our hearts that you fill everyday with joy.

So this little note goes out to you as your parents reflect on our first year of marriage. It has been a terrific year, indeed, and one that was capped off by your birth.

Lots of love always,
Your parents, Kim and Mark
Hello Thomas!

Welcome, dude. You picked a pretty cool set of parents. I hope I get to see you at my wedding, if not sooner.

Love,Cousin (sorta) Jim
Dear Thomas,

Your are a very special addition to our family. Your birth was exciting news to all family members. You have many cousins, and you created first-time grandparents, aunts, and uncles.

You were born during an especially beautiful time of year when tree leaves change colors. You decided to be born immediately after a beautiful lunar eclipse. The rest of your life will be even more special.

Love, Cousin Bill Anderson
What a wonderful home page! Think your career is already predestined. Wish we could be there for your baptism tomorrow; we will be thinking about you and all of your family. Merry Christmas!
Dear little Thomas!

How are you doing? You must be growing like a weed I think! I am looking forward to seeing you this week. At the moment I am with your uncle Chris and aunt Gina, but normally I live in a very tiny country called The Netherlands which is even far smaller than North Carolina. Maybe you come to visit me in Amsterdam, the capital, when you 've grown up.

Goodbye dear Thomas, Mark and Kim!
Tim Cheeshead Diehl
Hi Thomas

From uncle Bill I have just learned about your existence, although I vividly remember the lunar eclipse, which also could be seen on the other side of the Atlantic. Apparently the old folks were right when they said that lunar eclipses foretell something great, even if you cannot perceive it yet at the moment. I truly enjoyed your homepage. Please pass my best wishes on to Mom and Dad, and if you get around send me a line back. In Switzerland we are still a little backwards. So I do not have a homepage yet, but at least you can get in touch with me in the old country by e-mail. Say hello also to uncle Chris and Gina, and to GranGran and Granddad.

Best wishes from uncle Kurt and aunt Blandy in Switzerland.
Dec 7, 1997
Thomas,

Congratulations on being a new big brother. We know you will do a wonderful job helping care for Baby Connor. You are growing up so fast. We are continually amazed how many new things you can say and do.

We are so grateful for all of the happy moments you have brought us. We thank God everyday for bringing you into our lives.

We look forward to this new chapter in our lives with the addition of Connor. We feel very fortunate to have such a wonderful family.

God Bless,
Mom and Dad
Today I am enjoying looking at your web pictures and enjoying them very much. I think you are beautiful and I hope to see you someday soon.

Love Carolyn Brye
---