---
Hello World!

My name is McGuire Stevenson Hunter. I am one day old, and I am already pretty wise about how the world works. My birth statistics are:
Date: March 9, 2000 at 8:00AM.
Weight: 9 lbs 14.5 oz.
Length: 22.5 inches.
Place: Caldwell Memorial Hospital, Lenoir, North Carolina.
My name is derived from both my Mother's and Father's families.
---
I have a lot to say and show. Here are my photos. One hour old, and with my family.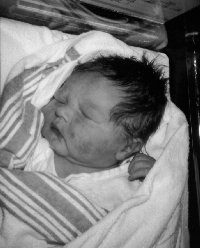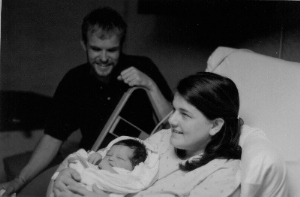 My best picture yet.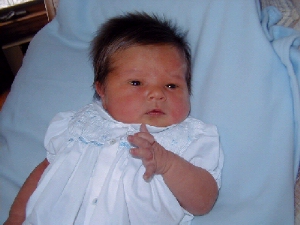 I like taking a bath.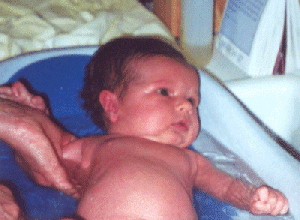 Six weeks old.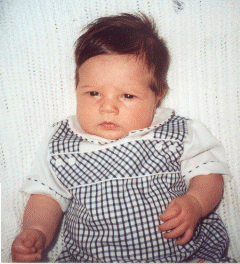 Me with proud Mom.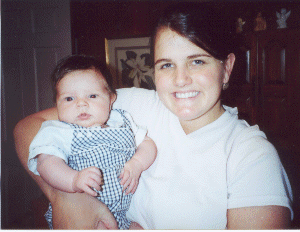 Four Months Old.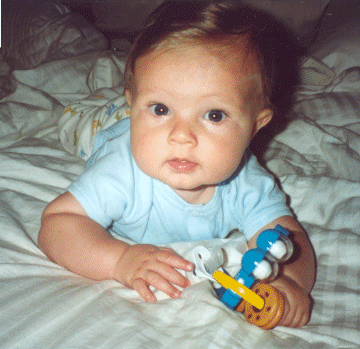 With Dad when four months old.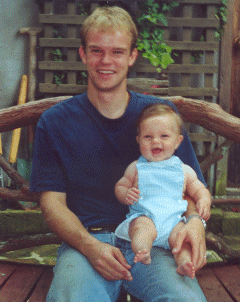 Favorite toy.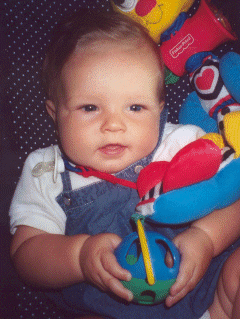 Cousin Claire Folk and me.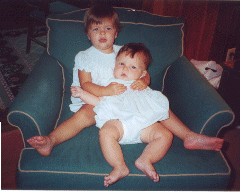 After my Christening, August 20, 2000.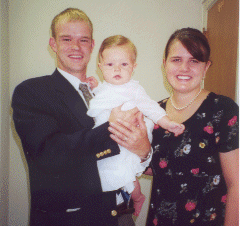 Seven months old. I'm a happy guy.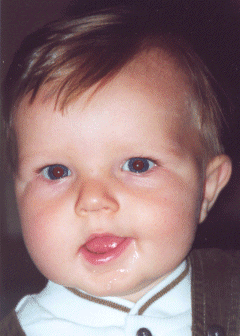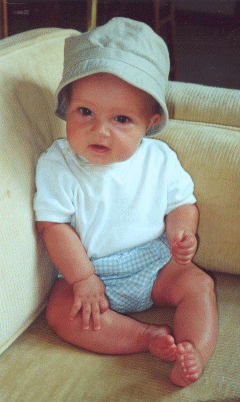 Beginning of my first Autumn.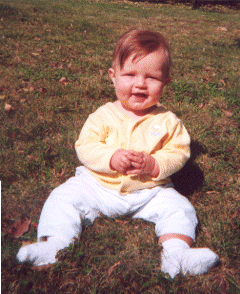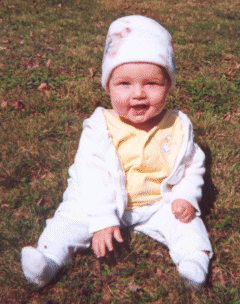 Thumbs up!!!
My first ice cream. I love nature.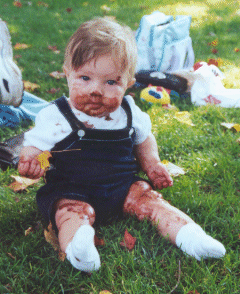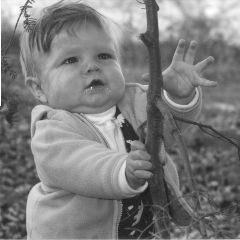 Peekaboo! Dad and me hanging out.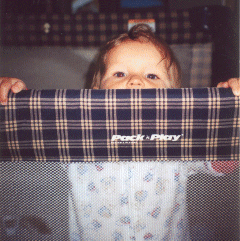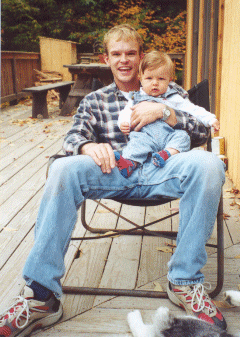 Mom and me goofing around.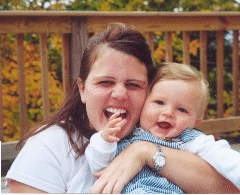 Checking out my Dad's hat. Yes, I'm walking now.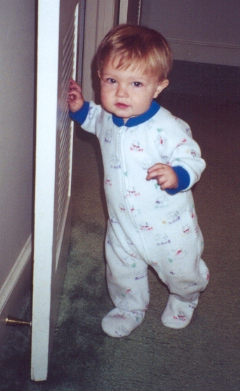 My first birthday.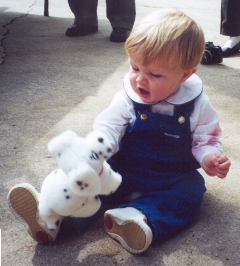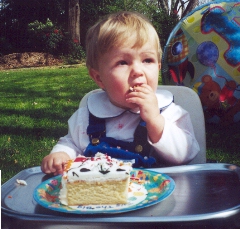 Here a few photos taken during the summer of 2001.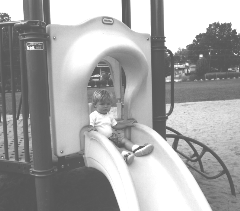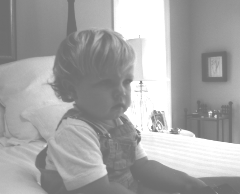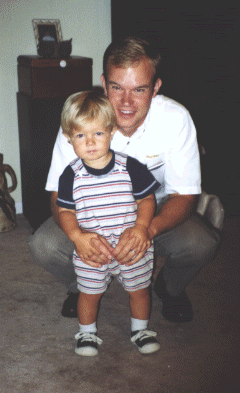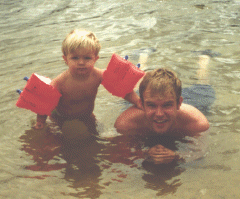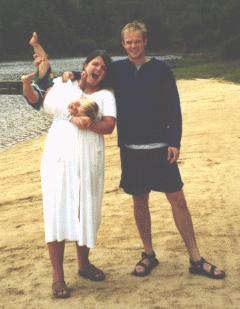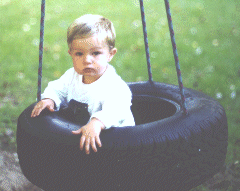 With my brother Woodson.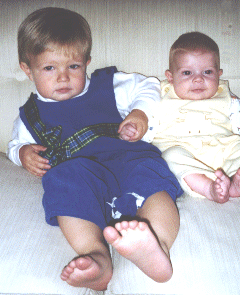 I have a serious side.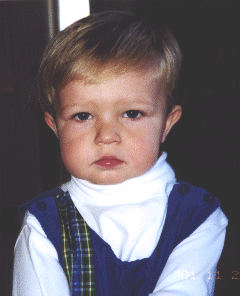 I will post more photographs in a few days. Meanwhile, check out my cousins Thomas Hayden Folk's Home Page, Connor Alexander Folk's Home Page, Christopher Allen Folk's Home Page, Claire Olivia Folk's Home Page, and Virginia Grace Folk's Home Page.
---
---
Responses: Here is what relatives and friends are saying.
Dearest Baby,

We are looking forward to your arrival. I feel you moving and making your presence known each passing day. We love you and are preparing for your grand entrance into our world.

Love,
mom and dad
Dear McGuire,

You are very special to your grandparents. The night that you were born we stayed in the hospital waiting room eagerly awaiting your arrival, which was at 8 o'clock on the morning of March 9.

You are our fourth grandchild, just like your mother was our fourth child. Even though you were born in Lenoir, you are living in our mountain house in Boone while your mother and father are in school at Appalachian State University.

You are the first child in our family to be born in the new millennium, and you will grow up in the 21st century.

You are a very handsome boy with dark eyes and lots of black hair. Your name symbolizes the union of the Folk and Hunter families, since McGuire is a family name on your mother's side and Stevenson is a family name on your father's side.

We love you very much and want you to know that we look forward to being an important part of your life in the years ahead.

With our love,
Grandmother and Granddaddy Folk
Hi Mcguire,(oh yea Luke and Margaret-Ann too). I know you have grown since Pop Pop and I saw you. We love you lots and will see you soon.

Love Pop-Pop and Grama!
Hello, Mac!

I sent you a present today; hope you're not too big for it! You're a bruiser! I love your hair! Really think you look like Margaret Ann, and your dad looks mighty happy too! Things are fine here; let's keep in touch.

Love, Nancy and Bill Plonk
I can't believe it! He is adorable!!! What a big boy! MAF, I'm sure it was all worth it! I love you all. Congratulations, Luke and Margaret and welcome to the world, McGuire!
Hey now McGuire....

This is your godfather writing...sorry I had to miss your big entrance into this crazy world. Looks like you did just fine, giving your mama just the right amount of trouble! Suprisingly enough, your hair style is very similar to mine! I like it! I eagerly await meeting you and I am very honored and proud to be hold the title of McGuire Stevenson Hunter's godfather.

Until then, stay up all night and keep your mama and daddy dancing!

Many blessings and much love, Ty
What a joy it was to see you at the hospital the day you were born! It brought back so many memories of Claire being born. What a wonderful experience! We are so proud of your Mommy. She was very strong during your birth, more so than most of us would have been. We were very surprised to see your first pictures on the web page. You look so different than when you were born. We think you are ABSOLUTELY ADORABLE! We also think you look very much like your cousin Claire. Take care and don't give your Mom and Dad too much trouble, just enough to keep them in line!

We love you,
Aunt Gina, Uncle Chris and Cousin Claire
What a beauty! Thank you for sharing your blessings with us. Major congratulations! Love to all.

Romayne St.John
Hello, McGuire,

Welcome to the world!! It's a great place and you will enjoy getting acquainted with it. I know your Mom and Dad (mostly your Mom). Very nice people. You are fortunate to have them for parents. I used to call your Mom "MAF" (and still do most of the time). I remember her well from when she was a teenager. When you are that age and she gets on your case about something you do, come see me . I will tell you a few stories about her. Here's wishing you all the best as you begin your fantastic journey of life in this beautiful world!!

Roy Dellinger
PS You certainly are a beautiful baby. I'm impressed with your stats and your full head of black hair.
Wow! What a guy. He sure has lots hair. Your friends in Geography at Appstate can't wait to meet you in person. Let Mommy and Daddy get some rest.

XXOOO Kathy Schroeder
HUNTER NISSAN LINCOLN MERCURY SAYS, BOY THATS SOME BIG BABY. WE ALL HOPE MOM IS DOING WELL, CONGRATS TO THE NEWEST HUNTER.
THE STAFF
McGuire,

You look like an angel!!!!!!!!!! You're the prettiest baby! - I guess I should say handsome! I love all you hair! Give your mama, dad, and all you grandparents kisses for me. Be good for you mama and let her rest! I'll come and take care of you anytime! Don't be afraid of your dogs - they will never hurt you.

I LOVE YOU BUNCHES!!!!!!!!!!!!!!!
Glen & Elizabeth
Dear Sweet Sweet Sweet McGuire,

I think you may be the cutest thing I have ever seen. You are a very lucky little boy to have two of the most wonderful people to love and take care of you. I have sent you something in the mail so look out for it. It is just a reminder that my husband and I are thinking of you and looking forward to meeting you. Keep us updated with your precious pictures. Tell your Mom and Dad I said HI and CONGRATS!!!

With Many Hugs and Kisses,
Lauren (Dunlap) Susi
hello to all! Oh My Goodness!! What a beautiful baby. He is wonderful and you both look so happy!! Please let me know if you need anything. Take care!

Love to you all,
Emery
The most precious little baby ever. I certainly can not wait to meet McGuire. What an adorable outfit. Congratulations Margo and Luke.

Cecelia
Dear Mac,

You are SUCH a cutie!! Your mom must have worked very hard to bring you into the world. Your stat's remind me of my DAUGHTER!! She was 9 lbs 6 1/2 oz. and 21 1/2" long. Someday you can laugh at my story: I was standing at the nursery window one day looking at her in the midst of the 26 babies born the same night she was born. A man standing next to me said, "Man, look at the bruiser in the back! He's gonna be SOME football player!!" I was not too happy to hear that about my little girl, so I dressed her all in pink and lace for at least a year. Today she is 20-years-old and only 5'4" and 110 lbs. However, you look like you have big hands, great for catching footballs...and grabbing all types of objects. And that funky hair and beautiful face will have the girls chasing you in no time.

Please tell Mommy and Daddy that we are SO excited for you! I am your Mommy's first cousin, and my family and I had a super-duper party time at their wedding. They are VERY fun people and will make wonderful parents--especially if you train them right. Just smile a BIG grin everytime they don't seem happy with something you did, and they'll melt right away!!

Now remember your mommy and daddy love being outdoor and running around, so be sure to keep them on the move. But for now, just keep up that wonderful smile and enjoy being "king" of your household, at everyone's beck and call [Grandmother Mitzi and Grandfather Chris will really run fast if you yell too!], and you'll LOVE being here on God's beautiful earth with us. I hope to meet you soon!

With LOTS of love and kisses to you and to your parents,
Cousin Mary Louise and Brodie

PS--BRAVO!! Margaret Ann and Luke!!!
Wow!! What can we say! You are a beautiful baby and just as wonderful as your grandparents said! We are so happy for you to be born into such a great family! We can't wait to meet you in person.

Lots of love,
Mr. and Mrs. Mallory(Roswell and Martha)
What a beautiful child! Poor little fellow looked like he'd been through battle just after birth but then became a real beauty just a day or two later! Thrilled for all of you. Margaret Ann--hope you're feeling good by now. Know that both you and Luke are proud of the little (?) fellow and justly so. We wish you all the best.

Eric and Darlene
Welcome McGuire...you are a handsome boy! Your Mommy and Daddy must be very proud of you. Maybe you will grow up to be a KC Royals fan like your Uncle Mark.

Congratulations and best wishes to all!

Dave & Betty Lowe
Congratulations Luke and Margaret Ann and WELCOME McGuire (FINALLY!)!!!!! There is nothing like the arrival of a baby, especially the first! McGuire is beautiful...we are so happy for you and cannot wait to meet McGuire in person! If the sleep deprivation gets to be too much just bring that sweet baby to us - Dylan is 13 months old and doesn't sleep night or day...maybe they could entertain each other and let us get some sleep! Best of luck to you all, take all advise with a grain of salt and remember we are here for you if you need anything!

We love you!
Kelly, Bill, Aubrey and Dylan
Marge:

Congratulations! (I hope you don't mind, but Liz sent these to me.) I am so happy for you & Luke. He is absolutely beautiful! I know you had a difficult time (and a long one!) delivering him, but look at the result! He is just precious. I look forward to seeing the both of you in person in the not-too-distant future.

Take care of each other and give yourself a huge pat on the back - you have been blessed and have much to be thankful & proud of/for! He really is adorable!

Susan O
(from the pits of Charlotte)
Hey, Mighty Mister Mac!

What a fine looking fellow you are, and what a wonderful way to enter the Millenium. You're a lucky fellow, too, to have such a great mom and dad and LOTS of other doting family members. Love to all,

Cousins Arabelle, John, Will, Caroline Fedora
Dear McGuire:

It was great seeing you and your parents in the hospital on the day you were born. You are a BEAUTIFUL BABY. You are lucky to have such wonderful parents. We are so happy for all of you. Our two sons and your cousins, Thomas and Connor, can't wait to play with you when you get older. You guys will have lots of fun! Welcome to the world.

Lots of Love,
Mark, Kim, Thomas, Connor Folk
Hoddy partner,

Its so good to finally see you. What do you say you give me a call when your ready and Ill come over with some apple pie, and my buck hedge trimmers and we will style that hair-do up just right. I will have to say your looking pretty good these days, I bet you and mama got that work out in you both have been looking forward to. Take care and behave for mama and papa for me and well talk again real soon.

love Bryan
You are beautiful!!! Wow, what great pictures. Thanks for sharing them with me. I am so happy for you, your mom and your dad! Have a happy day today. We love you,

Candice and Scott Johnson :-)
Welcome to our wild, wonderful, wacky family, Mac. Your life will have many ups and downs, but there will always be a safety net of love beneath you. Best of luck, buddy.

Jim Morgan

P.S. I'm incredibly jealous of your hair! ;-)
Wow! 9+ pounds! That's a keeper!

Congratulations to Mom and Dad. Well Done! The Andersons of Virginia wish you all a happy, healthy, and properous life together.

John, Gady, John Alexander, Patrick, Richard
Greetings from your New York cousins! Great hairdo! Hope to see you on our way through NC in April/May.

Bill Beth John Natalie and Wilson Plonk
Hello Mac Hunter, what a healthy, handsome little guy you are. You take good care of your mommy and daddy and keep them busy, ok. We'll be looking forward to seeing you.

Glynda & Charles Chambers
Thanks so much for the great pictures you sent to us. McGuire is beautiful! Hope Margaret Ann is feeling stronger...it does take time. I know you both are loving parenthood. I left several boxes of clothes and other stuff at Dad's house..hope you can use them. If not just leave with Dad and I will bring them home. Including you guys...we have four couples that delivered boys with a month a part so someone will be able to use them if you are not. We look forward to seeing McGuire and parents soon. I love the Web site.. someone really knows about computers to set that up. We look forward to viewing upcoming pictures.

We love you!
Kim, Randy, Jesse and Hunter
Hi there again! Looks like things are going very well for the three of you! McGuire - you just seem to be getting more adorable every day! Your parents must be very proud of you that they make it possible for friends/loved ones to watch your development and see how cute you are at the touch of a button! I can't wait to see you in person up there in the mountains! In the meantime, take good care of your mommy & daddy,

susan o
McGuire,

I hope you appreciate your situation. You've entered the lives of two people who think you're a pretty neat guy. Don't give them too hard of a time, they've never dealt with anyone like you before.

I look forward to taking you climbing sometime soon, hopefully before I'm too old to do that.

By the way, tell your folks I'm happy for them and hope to see the three of you before too long.
Hi Luke and Margaret Ann!

I can't believe that I'm finally getting through to you via email! McGuire is such a handsome little baby! - - but then I knew he would be! I hope you two are hanging in there - - I know you are tired and that things are a little rough right now, but it will get better! Please keep updating these pictures! Since we can't see him in person right now, these photos are the next best thing! I know the grandparents are overjoyed! Know we love you and are thinking about you!

Judith
Dear Mc Guire!!

How's life, big boy!

You must have grown a lot since you were born 5 weeks ago!

I hope you'll have a wonderful life with your great parents Margaret-Ann and Luke!

All the best to you and your family from a friend from Amsterdam, the Netherlands!

Tim
Great looking kid!

Nice to hear from you! I'll write more later.

Tony
Hey Margaret Ann and Luke!

What a cute, sweet and precious baby! Congrats!

Love,
Pam
Candie's sister
Dearest McGuire,

Wow...it truly is a wonder to your daddy and me at how fast you are growing up! You are almost six months old and are doing and performing many new things. You are the love of our lives and we cannot remember what our life was like without you in it. You laugh all the time and are such a happy baby. We are truly blessed to have you. We look forward to watching you grow and mature throughout the years. Thank you for teaching us about your world and for being the beautiful child you are.

We love you..
Mommy and Daddy
I love the updated photos. You are a beautiful boy. Please come and see me.

Love
Emery
Hi, just found this by accident, It is so cute, I just wanted to say hello from California! Have a nice day!
Hi Margaret Ann, Luke and McGuire!

I don't get to pull this site up often, but it is rejuvenating when I do! McGuire is SOOOOOOO ADORABLE! So are mommy and daddy, but he takes the cake. I hear that his personality is also absolutely beautiful - - I am sad that we have not gotten to see him in person before now! I know you are wonderful parents and McGuire is a lucky little boy.

I am not good at staying in touch, but I think of you so often. I hope all is well and that we get to see you sometime soon. Also, please remember that you have an open invitation for a place to stay if and when you are here. Think you will come to any concerts? Aunt Jugee could babysit ( - :

Much Love,
Judith
What a darling! Looks like you guys are doing well by yourself and your parents also. I am so happy for you both and I know that grandpa Folk is very proud of all his grandbabies. It seems not that long ago momma was still in high school and calling into the Communications Department at CMS....... Wow! Give your little guy a hug for me.

Romayne St.John
---