What's New!
If you have a sound system, check out my audio [wav format, 120KB].
If you do not see a player, click here.
Greetings to Everybody!
I decided to surprise everyone by being born today, May 5, 1998. The womb is nice, but I am ready for some new experiences.

I was born today at 6:44pm at the Carolinas Medical Center in Charlotte, NC. At birth, I weighed 6lbs 7oz. I and my Mother are doing well.

To document my life, I am writing and publishing my own World Wide Web home page.

Here I am about 45 minutes after my birth with Mom and Dad.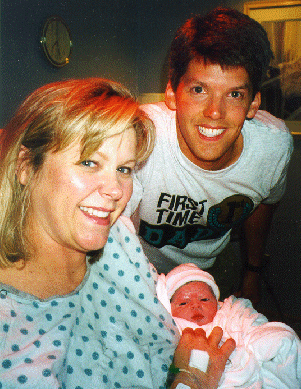 Here I am after someone put a pink ribbon in my hair.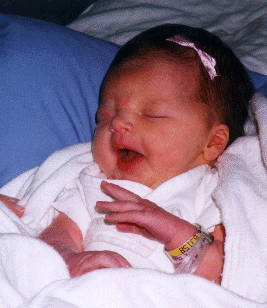 Great Grandfather Carey Arnold meets Great Grand-daughter Claire on Web My story was the headline on The Granville Post electronic newspaper.
On the trip home from the hospital.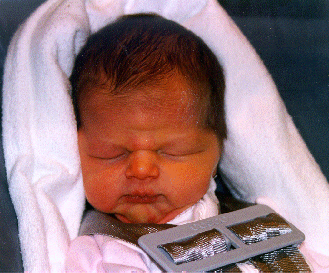 My room with a window view.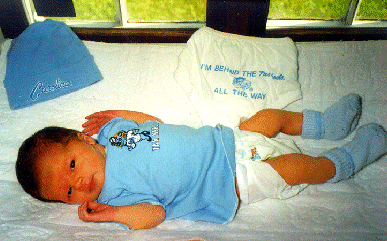 Claire's Letter May 8, 1998
WOW! After nine months of being cramped up in a dark place I did not realize I would have so many friends in only a few days. Mommy and Daddy have been reading me all the e-mail and home page letters. This e-mail and www stuff is neat! I now have pictures on my WWW page. Mom and Dad brought me home Thursday night and I think I am going to like it here. Dad has been teaching me how to use the computer and send this e-mail. I look forward to meeting each one of you in person one day. Keep the cards and letters coming!

LOVE, CLAIRE FOLK
Claire's Letter May 20, 1998
Hello to everyone! I wanted to let you know how things are going from the horse's (baby's) mouth so to speak. I haven't quite learned to type yet, so I have dictated to Mommy and she is typing for me.

After two weeks everything is going pretty well. Life is pretty much the same around the clock - eat, play, poop, sleep, eat, play, poop, sleep, etc, etc, etc..., but we manage to get a little excitement in there occasionally. Like when I was staying up at all hours of the night when I first came home. Personnally, I thought it was pretty funny, seeing Mom and Dad frantic about what to do next, but I figured out pretty quickly that it really wasn't that funny (Mom and Dad were awfully cranky the next day, so I've learned to go back to sleep after the 3AM feeding!) I have already been on a couple of shopping trips and Mom bought me some cool outfits at Old Navy. She used some kind of excuse with Dad about me not having much to wear that fits me right now and that she just had to get it out of her system. I don't know, I don't really know the difference right now anyway, but anything to keep Mommy happy. She has these crying spells which everyone says are normal, but you ought to see Daddy, he doesn't know what to do!

I went to the doctor's office yesterday. We only saw the nurse this time for a weight check and I'm up to 6 pounds and 12 ounces! I think I got down pretty close to 6 pounds or a little less there for a while, so Mommy and Daddy are really happy that I'm getting to be such a porker!

The biggest reason I asked Mommy to type this letter was because I wanted to thank everyone for all of your thoughts, prayers, letters, gifts and phone calls. We have all been overwhelmed (pretty good word for a two week old, huh?) by your love and thoughtfulness and since Mom is a little slow at the thank you notes right now (I can't imagine why), I thought I would send one myself. Please know how grateful we are for all of you. God has truly blessed us in so many ways, especially with the gifts of family and friends.

Anyway, keep the E-Mail coming, we love to read it. We continue to add new photos from time to time to the home page and we will keep you updated on how things are going. I know Mom and Dad are praying that I will sleep through the night as soon as possible, and I am thinking about it, but for now, let's just keep them in suspense!

Lot's of baby love,
Claire
I am 4 weeks old and growing fast.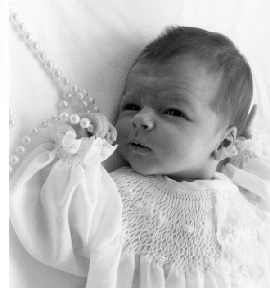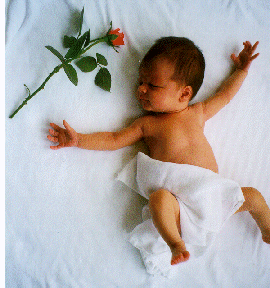 I found a Christmas tree and some cheerful people in the North Carolina mountains.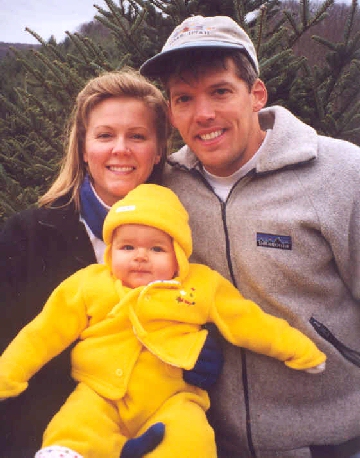 Cousin Thomas and I enjoyed Chrismas 1998.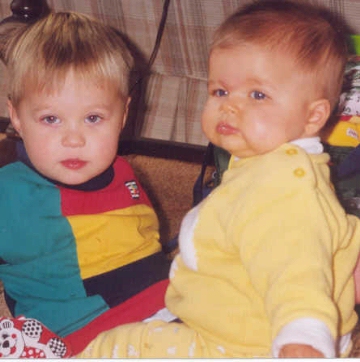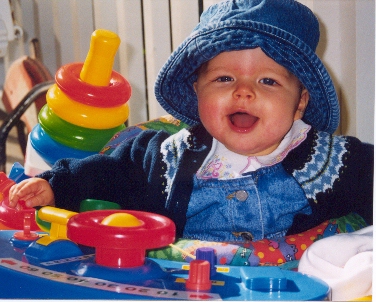 Beautiful!
After my Christening.
In Grandparents Folk's back yard, Spring 1999.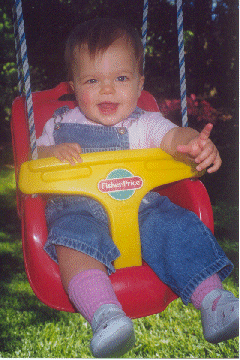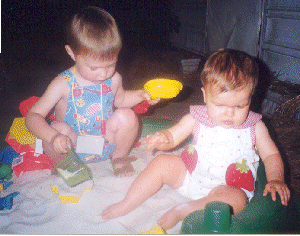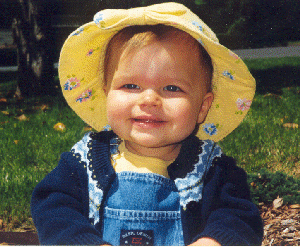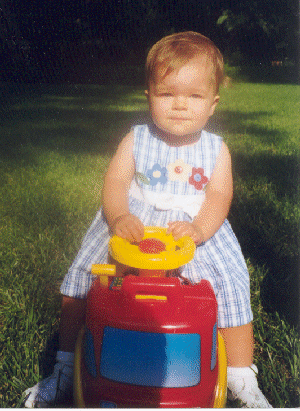 Cousin Thomas and me at dinner.
Sharing cake at my first birthday.
Me, Cousin Thomas, and long-eared friend.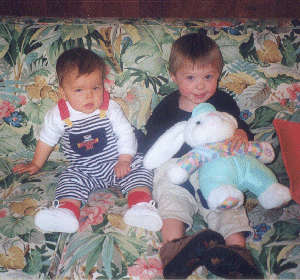 Mother's Day 2000, time to smell the roses.
I will post more photographs in a few days. Meanwhile, check out my cousins Thomas Hayden Folk's Home Page, Connor Alexander Folk's Home Page, and McGuire Stevenson Hunter's Home Page. Send them email. Return to this web page for frequent updates.
Please send me email. I love all forms of mail.
---
---
Responses: Here is what relatives and friends are saying.
Dear Claire Olivia,

I have just had the most exciting day of my life as I watched my daughter Claire Olivia be born today, Tuesday May 5, 1998 at 6:44pm. You are a beautiful baby and your mother and I are so blessed to have you come into this world healthy and with a full head of dark hair. You have filled our hearts full of love in the few hours we have known you. We are thankful to God for bringing you into our lives and pray that we will become good parents with his guidance.

We both love you very much,
Mom and Dad
What a wonderful surprise you were! Your arrival on May 5 was just in time for your mother's birthday on May 6 and Mother's Day on May 10.

Your grandparents think that you are the most beautiful baby in the world. We looked at your daddy's picture when he was born, and we think that you look a lot like he did.

Of course, we are so excited because you are our first granddaughter. You and your cousin Thomas, who is only 19 months older than you are, will have a great time growing up together.

We love your name. Did you know that Claire means "brilliant"? That's exactly what we think you are.

You are so special to us, and we love you very much. May God bless you and be with you always.

With all our love,
Granddaddy and Grandmama Folk
Dear Great Grand Daughter Claire Olivia,

Welcome to the WORLD! When are you coming to see your great grandpa?

I love the pictures, and by doggies, you look just like me!

When you visit me we'll go fishing, ride a mule, or some other fun thing like that. But most of all I want to hug and kiss you. Please hurry. I want to see you real, real bad!

Your Loving Great Grandpa
Carey Arnold (that's G-Man to my family and close friends...Ha! Ha!)
congratulations to all three of you -
especially the ones that did all the work (sorry chris). amazing - that a baby looks just like a picture of the globe (yes, we look forward to the real pictures - that's why i came here!

hope gina is recovering well - give her our best wishes hope the family is off to a great start!!
Claire Olivia you have surprised us all with the early ETA. I love your name and can't wait to meet you for the first time. You have brought with you a bond of love to all that will know you. You will change the lives of many, but most of all you were born to Parents that are overflowing with love for you.

Welcome Home!
With Love,
Great Uncle Max & Great Aunt Ann Arnold
FROM TIM DIEHL, A GOOD FRIEND AND CHEESEHEAD FROM AMSTERDAM, THE NETHERLANDS

Dear little Claire! How are you doing little girl?

I just received a wonderful message from your dear mummie and daddie that a beautiful girl called Claire was born on the dutch Liberationday, which is a great day for us. So from now on the 5th of May will also be a great day in the States! I am very glad that you and your parents are in a good health.

I hope I'll be able too see pictures of you on your homepage soon!

Goodbye dear Claire, Gina and Chris!!!!
Wow! Not even a day old and already floating around in cyberspace!

Congratulations to the proud parents, and HAPPY BIRTHDAY to Charlotte's newest MOM!!! Just in time for Mother's Day!!!

Glad to hear everyone is doing well.

Claire, You have a beautiful sunny spring day for your first full day in the world. Although you don't know it yet, you have some of the nicest parental units around! I expect you can plan on a life full of fun and adventure. We'll let you rest from your arrival for now, but plan on wearing water wings to "Row Your Boat On The New" in a year!

I can't wait to meet you! Congratulations to all, and Happy Birthday to Cabbage Mom!

With good thoughts and prayers for your health and happines,
"Uncle" Forrest
Rob and I are so excited for you and Gina! (I assume it is Chris on the computer - otherwise, Gina really is a busy woman!) Claire is a lucky little girl! To get parents like the two of you is a chance in a million! Sam and Claire will be going to Sunday School together soon. Sam is 7 weeks old now.(Maybe we'll call it "Nursery" for a few years.) I want to hear all about it one day. Enjoy yourselves. There can't be a better time to have a baby than Spring. Ask the birds!
Love,
Anna & Rob
Dear Claire,

We already knew you had GREAT parents, but now we know how creative they are too! I have known your daddy, my first cousin, since he was a baby; and my husband has known him for 25 years.

We can't wait to see real pictures of you--and maybe we'll see you in person this summer. We live way up at the top of the United States outside Rochester, New York, on a big lake called Lake Ontario; so we only get "home" to North Carolina a couple times a year. But we will keep watch on your web page for pictures and news about you. Also, we hope to come to your Aunt Margaret's wedding and could see you then!

When you get old enough, we hope you will write us on the computer too. We LOVE e-mail!

Give Mommy and Daddy a BIG, wet kiss for us and a big hug. It sounds like they worked hard to bring you out into our world. God Bless you all!!

Love,
Mary Louise and Brodie
WELCOME TO THE WORLD CLAIRE!!!!

We can't wait to meet you. Especially Taylor, she is happy that you're a girl!! Keep sending pictures.

Hope to see you soon. And HAPPY BIRTHDAY GINA!

Love, Courtney, Tonya, & Taylor Arnold
Dear Claire,

Welcome to the world and to this wonderful family! At last another good reason to celebrate Cinco de Mayo! All of us are very excited about your arrival and wish for you a wonderful start with life. You did a good job picking your parents. There is no tougher nor more rewarding job in the world, but Gina and Chris are up to the task. All of you will be in our prayers.

Your Mom and I have something in common. My first-born arrived a day before my birthday and just before Father's Day. Your arrival on 5 May just before Mother's Day was a nice touch that will make this time of year very special for you and your Mom.

Happy Birthday Claire! Happy Mother's Day Gina!

Love,
John and Gady
Second cousins: John Alexander, Patrick, Richard
Greetings from your first cousins once removed Bill and Beth (you'll learn what that means a little later). I still can't imagine your father is a father but I'm sure he'll do fine, especially if your Mom tells him what to do. Your second cousins John, Natalie, and To Be Announced are doing well and can't wait to meet you! We all hope to make it down your way for the wedding. Welcome to our world!
Dear Sweet Baby Claire

We are so excited that you arrived healthy and strong! You are a special little girl and YOU have the BEST Grandparents (Kent & Judy) in the world. We look forward to seeing you soon. In the meantime you be a sweet baby and let Mommy and Daddy get all the sleep they can! :)

We love you, Danny and Sheila (Your Mom's first cousin)
Love,Hugs and Kisses
Ali Dare and Squiggles(Your first cousin once removed)

P.S. How are Bailey and Maggie doing?
Chris and Gina and Claire,

Congratulations. I went to school with Margaret Ann and have become a friend of the family over the years. I just received a e-mail from Dr. Folk and could not help but to see the youngest HTML writers. You have a talented and smart baby on your hands. You are truly blessed to receive such a wonderful and healthly baby. Congratulations again!!!!!

Gary Galloway
Hello Claire!!

I'm using mommy and daddy's e-mail! WOW!! you are beautiful. Hope your dad will place me first on the list to date you. i'm sure that i will have all the outstanding values and traits of my dad and can pass the interrogation by your "fabulous" dad.

this new world is pretty cool. i'm two months older than you--only advice is cry real loud when you want anything. talk by "cooing" and "au gooing" to all the silly faces people make at you - especially to your grandparents.

if we work this baby thing right- the christmas holidays will be very lucrative- in the mean time we should send weekly "crib" notes and "milk" our parents for really great trips and toys!

Welcome to the bright new world

love you already!
WYATT JOHNSON
(Ken and Allison's son)
Hi Claire:

This baby thing is pretty cool. I have been doing it for about six months and I have my daddy wrapped around my little finger. You'll like it, too. Tell your mommy and daddy hello.

Love,
Paige Banks (11/6/97)
My mommy and daddy are Lynn and Alan
Claire,

This is Grant Patton, Dad gave me the keys to the GMC Jimmy, what are you doing this Friday night?
Dear Claire,

The McSwains and Betty Aiken want to say "Welcome!" We are so excited for your parents and grandparents. I know you will be spoiled with lots of love!! We will be anxious to see you.

We know that the Grandparents Brown are thrilled with your arrival - especially since you are their very first grandchild.

Take care of Mom and Dad and train them to YOUR schedule!

Jim, Peggy, Stacey and Betty
Congratulations Gina & Chris!!!

She is so beautiful!! We are so excited that Claire is here and that she is a she! Almost made mom's birthday too.! Way to go Chris & Gina. Hope all is well & that you guys are getting into the swing of "family life". We look forward to hearing from you soon!

Take good care of each other!!
:-) deb, kipp, kole & kylie
ps--I love it that great grandpa is surfing the net--go gramps!!!
Dear Claire,

It's been a few days since your 'birthday' and we're sure you're teaching your mom and dad all about parenthood. You know - diapers, 2:00 am snacks, diapers, burping, diapers, crying for no apparent reason, diapers, web page design, and don't forget those diapers. Just make sure that you throw in an occasional charming smile and a laugh or two to help mom and dad remember what a joy and a blessing you are.

You're too young to know it right now, but you were born to two of the best parents any little girl could have. You'll realize this more and more as the years go by. And they go by quickly. You'll be dating before you know it and giving your dad even more gray hair. Just try to make it a little easy on him by avoiding that Patton boy.

Congratulations and good luck to all three of you.

Love,
Dan, Teresa, and Taylor Wohlbruck
Hi Claire,

Glad that you made such a quick arrival! You have such a beautiful head of hair, and pink really is your color. My congrad's to your fortunate parents Gina, and Chris! Can't wait to see you in July, and squeeze those little rosy cheeks of yours. Just want you to know that you will have a very protective Uncle, and you couldn't be blessed with a better family.

My Best to All of You,
Mark
Hello Claire from Mommy's office friends.

Come visit with us real soon! We love the pictures, can't wait to see you in person. We miss Mommy too!
Hey Little Claire

Make sure your daddy gets to change some diapers too; Mommy should not have all the fun. Another great trick I have learned is to wake up as close to 3:00am as possible. It is hard to do once you are 13 weeks old like me but I still try because is sure is fun to get an early morning snack! Can't wait to meet you in person.

Love,
Quincy Anne Staley
Having never met Gina I had no idea how beautiful she is. Having good looking and loving parents make for beautiful daughters. From Yetta and me, the best to your new addition and wonderful family.

Sincerly, Harris and Yetta
Hello Claire:

I want to let you know how precious Uncle Ken thinks you are. It was nice visiting with you. You were only four days old! Since you are such a "night-owl", I am dedicating a song I heard the other night to you and Mommy. See you soon...

Uncle Ken

After Midnight (sung by Eric Clapton)

After midnight, we're gonna let it all hang down.
After midnight, we're gonna chug-a-lug and shout.
We're gonna stimulate some action;
We're gonna get some satisfaction.
We're gonna find out what it is all about.

After midnight, we're gonna shake your tambourine.
After midnight, it's all gonna be peaches and cream.
We're gonna cause talk and suspicion;
We're gonna give an exhibition.
We're gonna find out what it is all about.
After midnight, we're gonna let it all hang out.
Welcome little Claire!!

All us mountain folks are as happy as pigs in slop that you are here! Now make sure you eat well and grow big and strong so your mommy and daddy can bring you to Ashe county this summer to eat your first big ole' heapin plate of pig!!Tell your parents we're sorry that you'll miss the wedding, but we understand. and Claire, when you learn to talk in the near future.. call your father "DADDY SNAVE" He loves that!!! Tell your momma that we knew you were going to be BEAUTIFUL, because you were half BROWN to begin with!!!Your uncle Jeff and very, very soon to be aunt Lori are so proud and happy for you and your families, and we love you all very much! Jeff and Lori
CONGRATS! Job well done on the site, and Claire is GORGEOUS!

John Stringfellow
Congratulations Gina and Chris !

Welcome to the wonderful world of parenthood! Claire is beautiful and it sounds like you're off to a good start. Now that you're in the Club we'll let you in on the secret-it's lot harder than it looked. Savor every moment of her life for these times will fly by and before you know it, she'll be a teenager. If we make it through this stage we'll be glad to pass on any advice.

Take care and God Bless .
Bonnie, Randy, Kaitlyn and Lauren
Happy Birthday Claire!

Mom and Dad should be getting a Party together for your First Birthday Today. Get all those Grandparents on the road buying presents and stuff. "Todays Friday" Let me know how the Party goes! Just think you got here early and on your first Month Birthday, an Earthquake. You're making things happen. Tell Mom and Dad Hello and travel North soon.

Uncle Max
Dear Claire:

I am looking forward to seeing you this week. I guess it will be your first "road trip"! Are you EXCITED? Call me when you get into town, okay?

Love,
Uncle Ken
Dear Claire,

You are just beautiful!! You got my maternal instincts to jump alittle but I have to get my babies, Jake and Rudy, grown up first!! You will probably be old enough to babysit by the time I get things going. We'll have to stay in touch!

I am glad to hear the entire family is doing well and look forward to meeting you soon. Congratulations Chris and Gina!

Your new friend,
Lisa Schloeder
Dear Gina,Chris & Claire,
We really enjoyed seeing you and meeting Claire. Kylie hasn't stopped talking about feeding Claire--& Kole keeps bugging me to get to the lake for some good fishing!! It was great to spend some time catching up with you & that Claire is truly an angel. take care--
Deb, Kylie & Kole
Sweet Baby Claire,

Today is your 6 month birthday! Grandpa and Grammie Brown think you are so special and have been thinking about you a lot today since it is very special. Six months ago today we were anxiously awaiting your arrival and what a sweet surprise you were!! We have enjoyed you so much and look forward to making many memories together. We had a great time last Sat. going "Trick or Treating". You got great goodies! You must have that magic touch and you were so cute in your pumpkin suit Mom made for you.

Happy Birthday-- Grandpa and Grammie Brown 11/5/98
Happy Birthday from your Uncle max and Aunt Ann. Just think it's only 54 month's before you start the first grade. Get your Parents and Gandparents out shopping for lots of fun things for your Party tonight. Have a fun Birthday!!
Happy Birthday Claire!
You are such a joy to the entire Family.
Wow, you sure have grown a lot. It is so nice to see your smile. Since you like music, you will be dancing soon.
Love, Cousin Bill Anderson
Clair

was just looking at some of your pictures and you are beautiful -- bet you had a good time at your cousin's birthday party yesterday -- hope to see you sometime next year

Love Carolyn Brye
Dear Chris, Gina and Claire!!

We saw your lovely pictures. Claire really looks like her daddy!!! Today we were visiting Tim in Amsterdam. We're all doing well.

Lots of love,
Tony and Koenraad from Holland
Oh, Claire, you are an angel. There's no doubt that you are adored by all. You are very fortunate to have so many people who cherish you. What a special little lady!
Hey Claire,

How do you you like your new baby sister???? She looks just like you. How does it feel to be a big sister!!!!!!??????

Thats all,
LOVE, ELIZABETH
hello claire-

i want o tell you congratulations on the arrival of your new baby brother- as you know,being a big sister to younger siblings is a very large responsibilty- and i know you will handle it all well. i can not believe you are 4 years old now!!! miss lisa and i really miss all the young people on belvedere ave. i am the oldest of 3 girls in my family.

good luck!!
miss caren
---