CONTENTS
Photos:
0 months
Email:
Email Me
Responses:
GMGD Folk
U Ken
Margaret Luke
Campbells
String
ds
Forrest
Claytons
Elizabeth
T Diehl
Taylor, Parker, Ron
Max Ann
Aunties
Neil Laura
Hursts
Jim Morgan
Kathy A
Browns
Nixons
Ginny
Deb, Kipp, Kole, Kylie, Betty
Edwards
McSpaddens
Dawn & Todd
U Ken
Caren Lisa

---
Today, is my REAL birthday, the one and only REAL birthday. This is how I introduce myself to my many family members and new friends.

I was born at 1:19AM August 25, 2000 at Carolina Medical Center in Charlotte, North Carolina. My length is 20 inches. My weight is 8 pounds 4 ounces.

I was born near the end of summer when tree leaves are just beginning to show their autumn colors. It is the time of year when the earth gives us its harvest of food and beauty. Birds are beginning to gather in large flocks before their fall migration. I am starting my first migration, and I am looking forward to discovering my new surroundings. The day I was born was very pleasant, bright and sunny, and not too hot. Everyone rejoiced.
---
My Life's Story in Pictures
Here are my first portraits.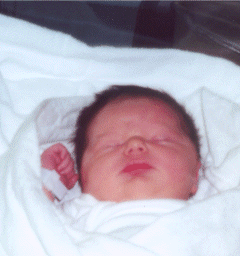 Hello everybody.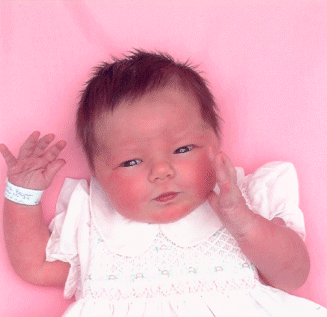 My family.
Proud Dad.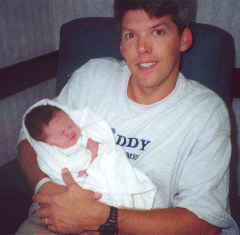 Mom introduces me to sister Claire.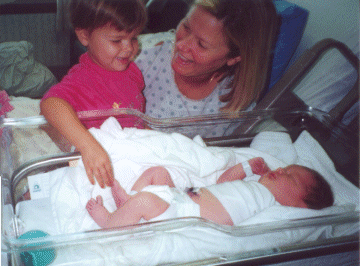 Sister Claire anticipates wonderful times growing up together.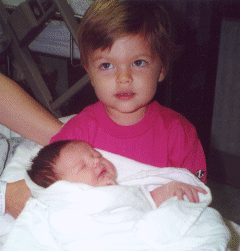 My first day was busy. I feel a bit sleepy.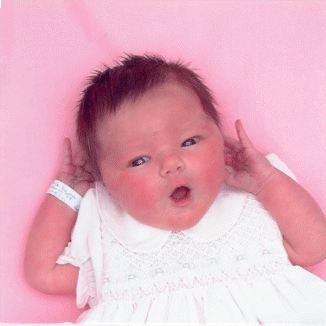 Mom and me at Cousin McGuire's first birthday party.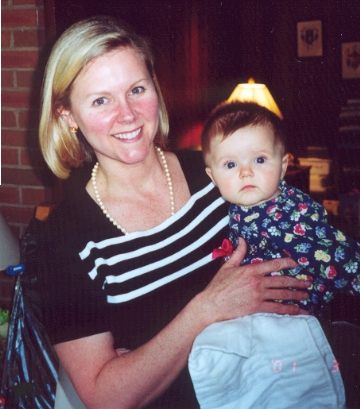 I will add more photos soon. So check back frequently. Meanwhile, check out my sister Claire Olivia Folk's Home Page, and cousins Thomas Hayden Folk's Home Page, Connor Alexander Folk's Home Page, and McGuire Stevenson Hunter's Home Page.
---
Birthday Quiz
You can take a quiz about my birthday facts. If you get all correct answers, you will see my slide show.
---
---
Responses: Here is what relatives and friends are saying.
Dear Virginia Grace,

How exciting it was to welcome you into the family on the 25th of August in the year 2000! When you decided to come, you did not keep us waiting long. You came within an hour after your mother and dad left for the hospital. We could not believe it when your dad called us at 1:40 a. m. to tell us that you had arrived.

You are a beautiful baby and look so much like your sister Claire. What fun the two of you will have together in the years ahead. You and your cousin McGuire Hunter are the two members of our family who were born in the first year of the 21st century, and you are also close in age to your cousins Connor and Thomas Folk.

We look forward to watching you grow up and enjoying many family get-togethers with you; your mom, dad, and sister; your aunts, uncles, and cousins.

You have a wonderful mom, dad, and big sister, and we love all of you so much.

Gran Gran and Granddaddy Folk
Hello Virginia Grace Folk!

You are so beautiful! :) I can't wait to meet you in person and see your eyes when you look at me. Meanwhile, just relax and let your family take good care of you.

See you soon!
Uncle Ken
Welcome to the world precious girl!

You are such a beautiful baby..delicately beautiful in everyway. We are so lucky and thankful to have you here. You are so special to us and we cannot wait to watch you and your cousin McGuire grow and play together in the future. You both are just five and half months a part and will find many fun things to do together. We love you and your family and we look forward to being a special part of your life.

Auntie Margaret, Uncle Luke, and Baby McGuire
Congratulations! She's beautiful! Hope to see you all soon.

Mark, Nelida, and Melissa Campbell
Wonderful news! Congrats!

String
What a beautiful little blessing! God has richly blessed you again, and we rejoice in joining you in welcoming Virginia Grace! Our love and prayers are with each of you as you begin this new journey and life.
Wonderful news! Can't wait to meet you!

Forrest
CONGRATS FOLKS!! I CAN TELL YOU FROM EXPERIENCE THAT TWO GIRLS ARE BETTER THAN ONE!
BEST WISHES FROM THE CLAYTON CLAN!!!!!!!!!!!!!!!!
Dear Virginia Grace,

I'm very happy you came to the world and that you live on Belvedere. You have such a great family.

LOVE ALWAYS,
ELIZABETH
Dear Virginia Grace, Gina, Chris and Claire,

Virginia, I wish you and your lucky parents and sister Claire all the best!!

Tim "cheesehead" Diehl from Amsterdam, The Netherlands
Regina, Claire and Chris,

Congratulations on your new addition - she's beautiful! Cousin Parker from San Diego says hello!

Love,
Taylor, Parker and Ron
Congratulations to the Proud Parents and Big Sister Claire. We can't wait to meet Virginia Grace for the first time. Welcome Home Virginia Grace!

Max & Ann
Welcome to the world Virginia Grace Folk. We can't wait to meet you. You are absolutely beautiful and especially with that georgeous hair. Be sure to tell Mom, Dad and Claire we said hello.

Love,
Auntie Pat, Auntie Sandi & Auntie Charlie
What a beautiful baby! She looks just her big sister.

Hope to stop by when the parental units have recovered from the big event.

Neil & Laura
Welcome to the world Virgina Grace. What a blessing you are to your parents and Claire. We hope to meet you soon. You are a beautiful baby!

Love, The Hurst Family
Welcome to the gang, kiddo. I hope it's not a bad omen that your birth weight was the same as mine! :-) On the plus side, you have a lot more hair than I do now. Sigh. Congrats to your great parents and grandparents.

New Mexico Jim
Virgina Grace!! What a beautiful name for a beautiful little girl. You're precious, and I can hardly wait to meet you in person.
Congradulations! You are a beautiful little girl. Also a lucky little girl. You have a very sweet big sister and such wonderful parents. You are a special little one and we know you are loved more than words can say. We hope to get to meet you one day soon! Much love to you and your family!

Michael, Suzanne and Preston Brown
Congratulations!!! What a beautiful girl. I know you will be breaking some hearts only too soon.

Hope to see you some time soon.

Sue, Brain, Jesse and Hanna Nixon
Dear Chris and Gina,

This was so much fun seeing Virginia this way. We are so excited for you all! We cannot wait to meet her soon! Ironically Joe's brother had a baby on the same day! This is fun for me since my baby making days are over. Good luck to you all and we look forward to seeing you all soon!

Ginny, Joe, Virginia, Allie, and Martin
Congratulations!!!! Virginia Grace is beautiful with that angelic face and Claire looks like she is a wonderful big sister. We hope everyone is doing well.
Piles of Smiles
:-):-):-):-)
:-):-):-)
:-):-)

Deb, Kipp, Kole & Kylie and Betty!!!
Dear Virginia,

Good to see you! Welcome to the planetary sphere. Does it seem strange or just strangely familiar? Anyway, you've certainly landed with some fine folk (pun quite intended). You know, I met your mum and dad far away and quite long ago in a place of beautiful mountains called Nepal. Hope you get there one day and to many other exciting places during life's long journey - make sure not to miss my home town London. For now, enjoy the warmth of home, family and all that great milk. Hope to meet you and your sister Claire before too long.

Lots of love to your mum and dad,
Nick and Maria Edwards xxxx
Hi, Virginia Grace.

We just returned from out West from a wedding in Santa Fe and visiting our children in Salt Lake. We loved seeing your pictures and cannot wait to see you in person. We look forward to seeing you at Covenant with your grandparents soon.

Best wishes and God Bless,
Joyce and Frank McSpadden
Congratulations !!!!!!!!

What a beautiful baby..............must take after the mother !!!!!!!! As fate would have it, the very same day the mailman brought the card announcing Virgina Grace, Dawn and I found out that we are expecting. Good news comes in pairs I guess!!! Hope to speak with you both soon.

Dawn and Todd
Gracie,

I'll see you soon. You can go with me to the Panther's game if you want to!!!

Love ya,
Ken
well miss grace- you are now a middle child. how about that- a baby brother. i must say you look just like your mommy. i am sure that you will stay busy along with claire helping your mommy and daddy with your baby brother. god bless you all

caren and lisa in new york
---