CONTENTS
Photos:
0 months
Email:
Email Me
Responses:
Mom & Dad
GM GD Folk
W Wilson
L Hicks
S D Arnold
Corbetts
Max, Ann
Caren
Gady John A
B D Lowe
U Ken

---
There's a new kid in town. Hello, everyone! I am off to a good start and I am ready to join Mom, Dad, and family to explore the big world. You know by my name, Chris Evans Folk III, that I am a nice fellow.

I was born at 2:07PM May 8, 2002 at the Carolina Medical Center. My length is 20 3/4 inches. My weight is 8 pounds 4 ounces.

I was born when most of Nature's babies are exploring the world. Baby birds are learning to fly. The Carolina countryside is green and inviting. On my birthday, a rare event occurred. Five visible planets are grouped together in the early evening sky. Maybe I'll visit them during my lifetime.
---
My Life's Story in Pictures
Here are my first portraits.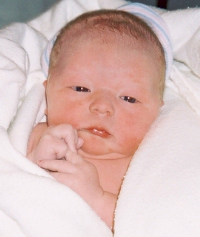 Mom, Dad, and sisters Claire and Virginia Grace.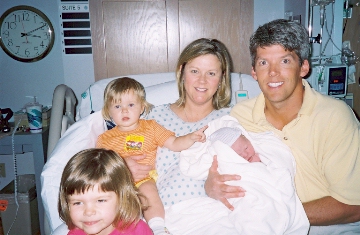 The three Chris Evans Folks.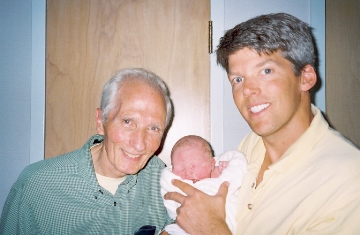 I am Granddad Kent Brown's first grandson.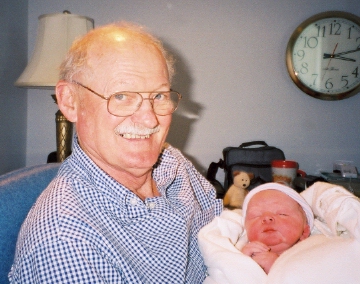 The ladies in my life.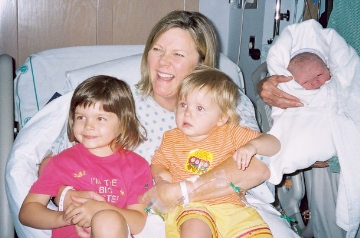 My Folk ancestry.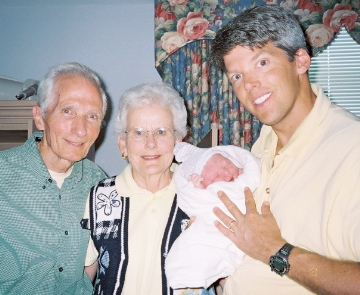 I am Grandparents Folk's eighth grandchild.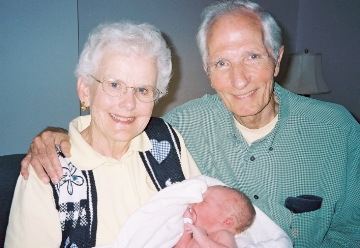 My namesake, Chris Evans Folk, Sr.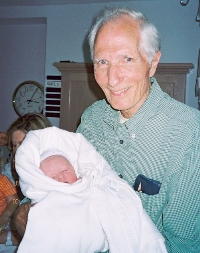 Child-raising advisors: Donald Moore and Uncle Bob Folk.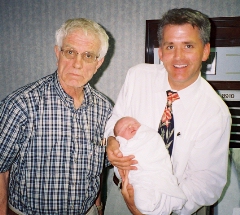 Cousin Connor Folk found a new pal.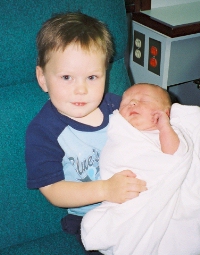 Rest up after a busy first day.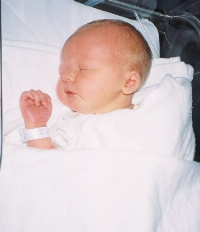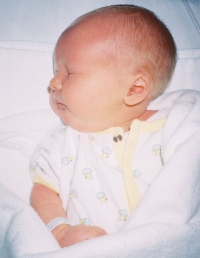 Mom introduces me to my first toy.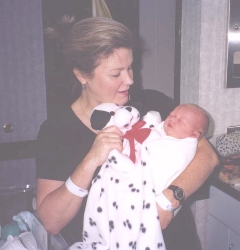 Sister Claire contemplates what this all means.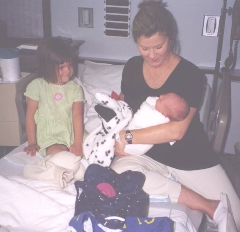 Dream time.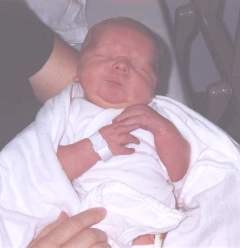 I love time spent with Grandmother Brown on the porch.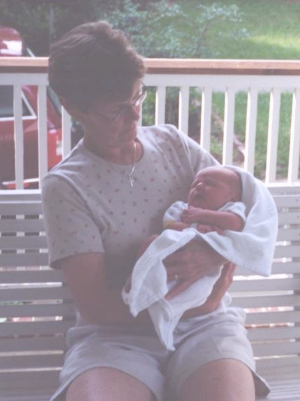 Grandfather Brown is one proud man.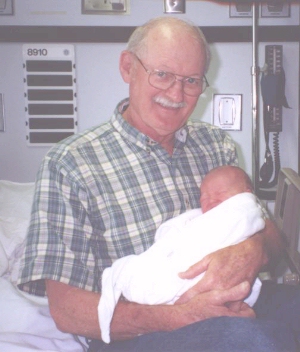 Home for the first time.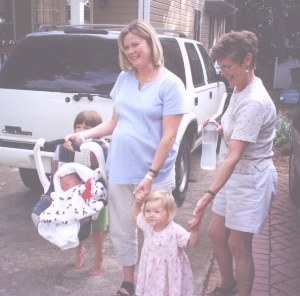 Check out my sisters Claire Olivia Folk's Home Page and Virginia Grace Folk's Home Page. Also, check out my cousins Thomas Hayden Folk's Home Page, Connor Alexander Folk's Home Page, McGuire Stevenson Hunter's Home Page, Woodson Marvin Hunter's Home Page, and Christopher Allen Folk's Home Page,.
---
Birthday Quiz
You can take a quiz about my birthday facts. If you get all correct answers, you will see my slide show.
---
---
Responses: Here is what relatives and friends are saying.
WOW!

What an exciting day it has been. We have been looking forward to this day for 38 1/2 weeks. It was a big suprise to find out you were a boy. We had your name picked out four years ago waiting for this day. Mom was ready for you to be born more than anybody and now that you are here, you have a very excited Dad and two big sisters waiting to show you the world. Claire's job today was to pick out your snuggles and she got a Dalmatian dog and called him doggie. He will live with bear-bear and lamby and be an important part of night-night time. You came into this world quickly with mom's great friend Auntie Alex in the delivery room for support and Gammie getting to watch as Dad got to put on the rubber gloves and help deliver you. We are looking forward to your trip home tomorrow and want you to know how much we all love you.

Happy Birthday!
Dad, Mom, Claire, and Grace
Chris Evans Folk, III-you are the third generation to be given this name.

We were so excited the day you were born. Your dad came down the hall at the hospital to take us to see you, and his face was just beaming. Your mom was holding you in her arms as your dad introduced you to your sisters, Claire and Grace, and both sets of grandparents. Chris Sr. was the first to hold you as his namesake. All of us were so thrilled to see you. It was truly a blessed event.

You are our eighth grandchild, born on the eighth of May, and you are our first grandchild to be born in the year 2002. We look forward to watching you grow and become a fine young man.

You have been born into a wonderful family with a loving mom and dad and two beautiful sisters. Your family, your grandparents, aunts, uncles, and cousins all love you very much and welcome you to the Folk family. May God bless you throughout your life.

With our love,
Grandmother and Granddaddy Folk
Hi little Chris,

You will love being a "third". I am too! My Mommy, Daddy & Blossom send their best to you and your parents and siblings...and animals!

Love,
William Clarence Wilson, III

PS Tell your mommy that my mommy is looking forward to seeing her on girls trip.
To All the "Folks,"

Congratulations! What a joyous event. Chris, my best to your mom and Dad, too. I know the joys of grandparenthood.

Love, Linda Hicks
Hello Folk Family!

We are so excited about Evans! So happy that he is healthy and everyone is doing well - We can't wait to see you all! Take Care TRY to get some rest!

We Love You,
Danny, Sheila and Ali
Chris Evans Folk, III....so glad you made it into the world so soon!!! You have a lovely new family to play with...and nice neighbors too! Welcome. Tell Mom and Dad Congrats as well.

Joanne, Tom, Morgan and Cameron Corbett
Welcome home Evans!

You are going to be so happy to be part of the Folk/Brown family. Two big sisters to read, play, McDonald's and dance with. Congratulations mom and dad!

Max & Ann
welcome to the world young master folk- you have been born to an incredible family that will shower you with much love and guidance through god. you have 2 big sisters that are so excited i am sure!!! god bless you and your family. we are so excited you are here.

caren akin and lisa lynn in new york.
Hello Little Chris,

These are your cousins from the Washington D.C. saying Welcome and Congratulations to your beautiful Mom, Dad, and sisters. We are so happy you are finally here and everyone is doing well.

The baby is beautiful wish we could be closer to see you guys more often. I am going to start sending these messages in Spanish I need more bilingual members in the family.

Gina, HAPPY MOTHER'S DAY! YOUR PRESENT IS THE BEST.

Chris, Your time for running, football, swimming, tennis and golf is here. In this order and all around athlete of the year. Of course the girls too. No discrimination in this area, and Chris Evan needs to learn to dance and to like chatting.

Lots of love, hugs and kisses
Gady, John, John Alexander, Patrick and Richard.
Welcome, little Chris Evans the 3rd! What a beautiful baby you are. We loved seeing all the pictures and especially the one with the three generations. Congratulations,Gina and Chris. You have a wonderful family.

Love and Best Wishes to all,

Betty and Dave Lowe
Hello Evans,

I am so excited about having a nephew! I look forward to spending some time with you this summer. We can go out on the boat and look at all the girls in bikinis!

Love,
Uncle Ken
---