---
Greetings! My name is Ellison Motley Hunter. I was born tonight and just started a happy life with all of you. Please pass the message to all family and friends.

I was born at 6:15PM October 2, 2003. My weight is 8 pounds 8 ounces. My length is 22 inches.

I was born in Hendersonville, North Carolina, in the Appalachian mountains when the trees are most beautiful. My first name derives from great-great uncle John Ellis Evans. I have the same middle name as my great-grandfather Thomas Motley Plonk who was often addressed as Motley. My friends call me Ellis.
---
My Life's Story in Pictures
Here is my first portrait, taken when I was just an hour old.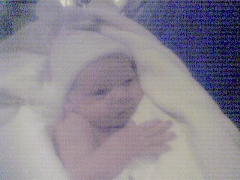 Wow! This world is a nice place.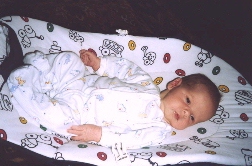 Here's my family portrait.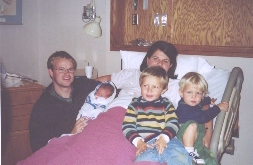 Brother McGuire is over joyed and is planning lots of neat activities with me.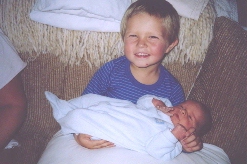 Brother Woodson loves me dearly.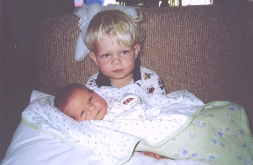 You can check out my brothers: McGuire Stevenson Hunter's Home Page and Woodson Marvin Hunter's Home Page.
Check out web pages of my 6 cousins. You will find all links on these pages: Thomas Hayden Folk's Home Page, Claire Olivia Folk's Home Page, Connor Alexander Folk's Home Page, Virginia Grace Folk's Home Page, Christopher Allen Folk's Home Page, and Chris Evans Folk III's Home Page.
---
---
Responses: Here is what relatives and friends are saying.
Dear Ellis,

You are a very special person. You are the third son of your mother and daddy, and you are our ninth grandchild. You are the only member of our family with an October birthday and the only one born in 2003.

Your name is special too because Motley was your great grandfather's name, and Ellis was your great great uncle's name.

You have two wonderful brothers, McGuire and Woodson, and you will enjoy playing with them as you grow up together.

We are so proud of you and love you very much. May God bless you and be with you throughout your life.

With our love,
Grandmother and Granddaddy Folk
I have another name for you "Number 9" how 'bout that!!! You are so lucky to grow up with 8 more numbers to play with -- hope to see and meet you sometime next year -- keep growing and smiling --

love cousin Carolyn
Hey, Sweetie!

Wow, are you gorgeous! I know your parents and grandparents are very excited to see you! I feel a special warm spot in my heart for you as my daddy's name was Thomas Motley Plonk, Jr., and I miss him lots. You are such a doll, and I am so surprised to see you so open-eyed and ready to experience all the joys of this world when you are only one hour old! Welcome to the family, Precious!

Love, Cousin Mary Louise Plonk Brown
Hi Ellis,

You are a very lucky baby, having been born into the most loving and supportive extended family you could possibly find. Enjoy the total lack of responsibility of babyhood while it lasts! And when you're ready to venture out in the world on your own--you know, when you're 3 or so. I hope you'll come visit us in the beautiful Northwest.

Your some kind of cousin,
Jim Morgan
Dear Ellis,

Welcome to the world! You are a handsome baby and you are blessed to have wonderful parents, two big brothers and loving grandparents.

We knew your Mother when she was a baby and a little & big girl. Congratulations to all...

Dave & Betty Lowe
Congratulations to all. What a great start at the race of life. Go for it Ellis.

Love,
Ed Bulgin
---